Posted by: Zardoz Jul 3 2013, 11:46 PM
Tt Theron review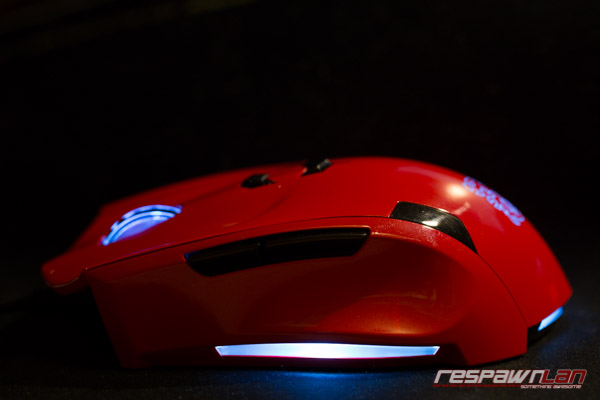 TL;DR. A surprisngly good quality gaming mouse from TT eSports. Looks damn sexy in red, configurable LEDs and multiple profiles can be saved to the mouse. There's no software for Mac. If you're in the market for a new gaming mouse, definitely check this thing out.

Introducing the Theron.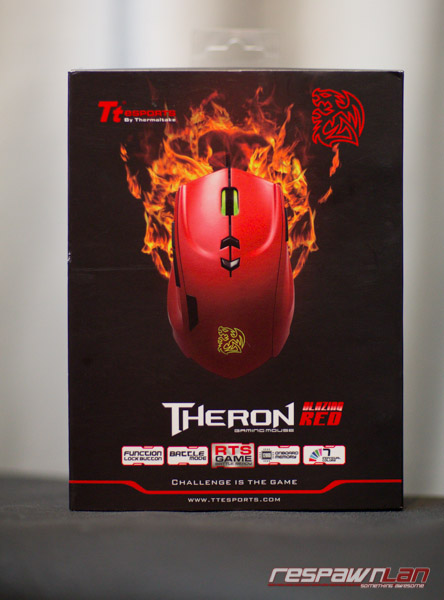 The Theron is Tt eSports's mid to high end gaming mouse, aimed primarily at FPS and RTS gamers. It sports the usual features you'd expect a gaming mouse to have; configurable LED colours, on-board memory to store mouse profiles (up to five) and buttons to change both sensitivity and tracking resolution dynamically. It's USB connected and includes a braided USB cable and sports a generous two-year warranty.

The Theron was recently released in a variety of colours; we received the red one for review. This is a good thing, as the red is sexy as hell.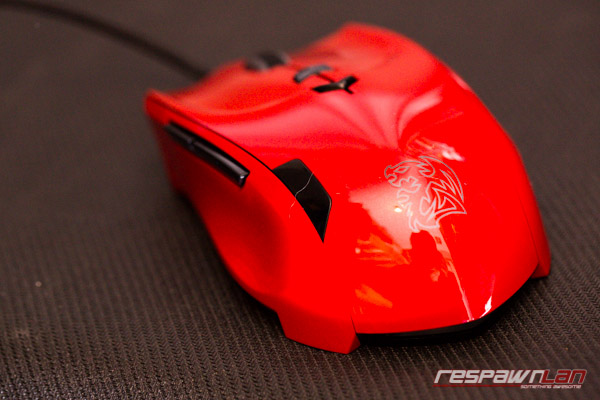 First Impressions.


When this thing rocked up, I was a little concerned at the colour scheme displayed on the front of the box, green LED highlights on a red mouse., a colour scheme I have never been a true fan of. In typical "don't judge a book by it's cover" fashion, I did just that.

Fortunately, after inspecting the box a little closer, I learned that this is a configurable setting - 7 individual colours can be selected and assigned to each LED part of the mouse. Things are looking up for the Theron.

Taking it out of the box, I quickly realised that this mouse was a challenge to photograph. A glossy service reflected each and every angle I tried to place a light; softbox diffusers, umbrellas, bouncing the flash off the ceiling, walls and an old Power Mac G5. The red mouse looked far better in reality than it did inside the package and was glad that Tt eSports had sent the red! If you're buying a mouse solely to photograph, perhaps this isn't your best choice.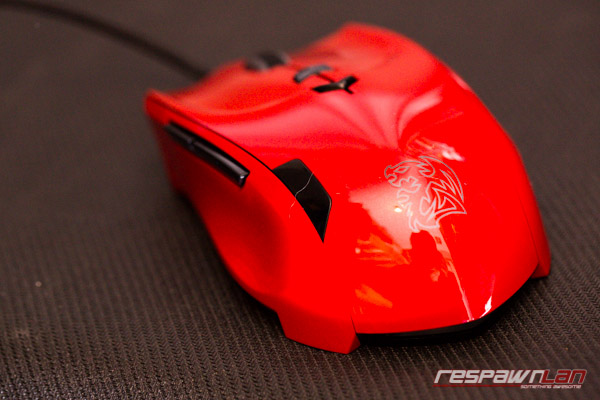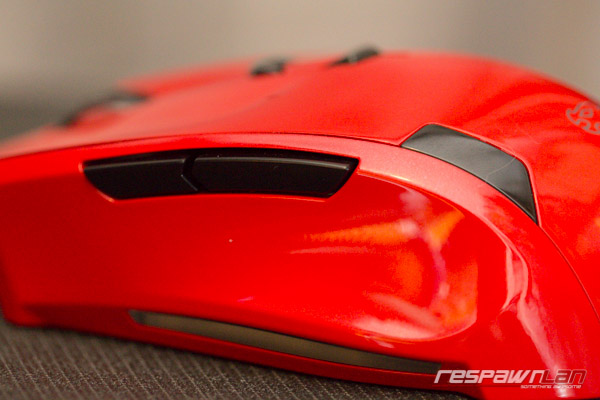 This is a very good looking mouse; perhaps it's the best looking gaming mouse currently shipping today.

Included in the package is a CD with driver software, two Tt eSports stickers with their dragon themed logo, a warranty booklet to remind us that there's a two year warranty on this mouse, a quick start guide (which can be summarised as "plug the mouse in and install the software CD") and of course, the mouse itself.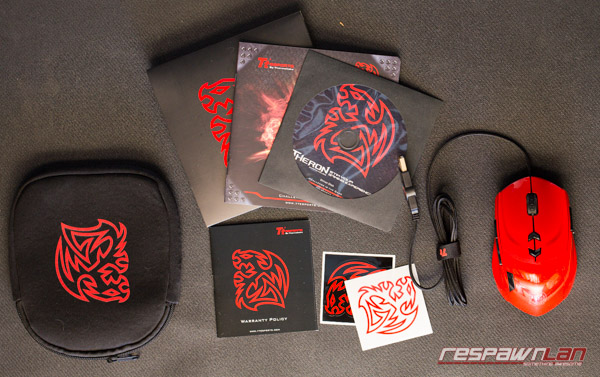 A two year warranty is something to write home about. I've had every single one of my mice exhibit issues with the USB cable approximately 18 months into ownership.

The mouse comes with a braided cable and a gold-plated USB connector. Tt eSports claim this improves performance however this is likely a gimmick - but it does look nice and adds to the premium feel.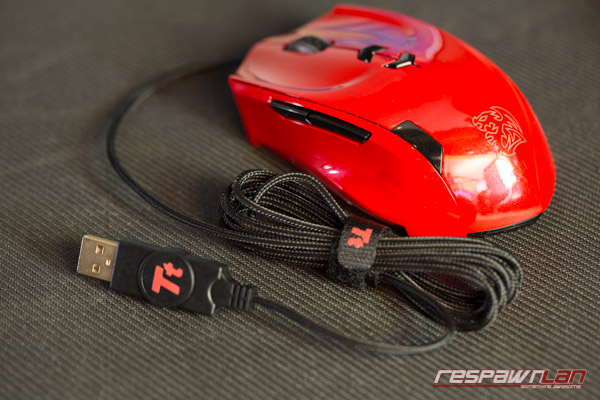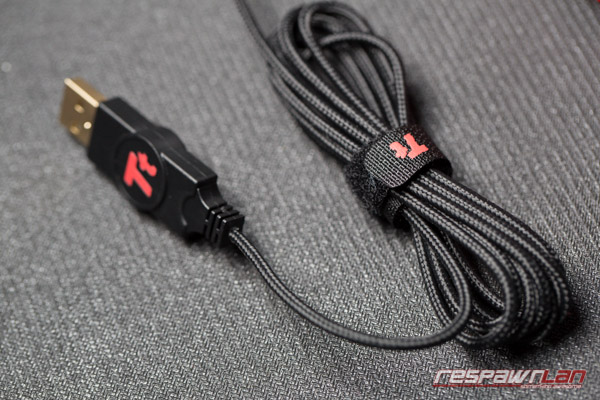 It was quick to observe that this mouse is a fingerprint magnet. Despite a naturally slightly sparkly metallic paint surface underneath the glossy finish, fingerprints and grease from the skin are easily observed in reflections. The glossy surface is, however, a welcome change to the rubberised coating on the black Theron which was prone to wear; the glossy surface on this unit is likely to last considerably longer.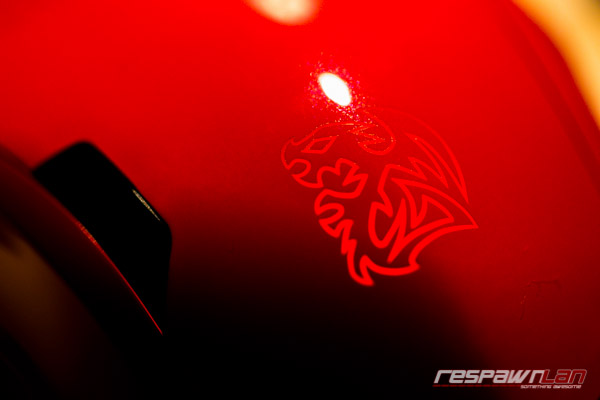 The mouse includes a neoprene bag to keep it in - this bag is well sized, large enough for both the mouse and cable and will keep it free of scratches and marks when transported to your favourite LAN party or competition. I recommend using this bag at all times as you do not want to scratch the shiny surface of this thing.



After snapping several photos of the mouse, it was time to play some games!

Software and configuration

I firstly hit the Tt eSports website to look for a driver download file. Despite including
drivers on the CD, it's always best to download the latest version - and not all systems
(including my MacBook Pro) have an optical drive readily available. You'll find the drivers under
the mouse' product page down the bottom; there's no "support" section of the site.
This is where I hit my first problem; I clicked on the wrong link. No big deal, as I just hit the
back button of the Theron and quickly realised that the back and forward buttons weren't working. I had assumed that this was related to driver software, despite my other mouse working a treat at the time and had proceeded to download the software.

There are three downloadable files at time of writing:
1. a Tt eSports Button Response tool, which looks like a throwback to Windows applications from
the mid 90s. This simple tool adjusts the response to buttons on the mouse, between 12ms and
36ms. The effect is subtle but could help reduce accidental clicks when things get intense on the
battlefield.
2. A firmware update tool, also with an appearence from the mid 90s, which claimed that the
Theron mouse I had did not require a firmware update.
3. A Tt eSports "Theron AP", which is the Theron application. Fortunately, the design of this
tool is far more modern and is probably the only tool out of the three that you'll actually be
using.
The Theron tool is the way you configure all the various settings on the mouse. You have the
choice of five profiles and you can fine tune each one to your liking - any combination of DPI
settings, double click speed, cursor speed "labelled as curson speed", scroll speed and polling
rate can be assigned to each profile - and each profile includes four DPI levels which you can
easily select by using the button on the far right of the mouse, perfect to switch between a
sniper mode and a "spray and pray" mode in your game.
This tool can even give you an on-screen overlay when you change settings to tell you which DPI
profile you've chosen.

Be aware that the tool will disable your full window drag when running. I found this somewhat odd - and I look to Tt eSports for an explanation as to why (I can re-enable it in the System control panel and the app seems to function fine). This may be a software bug.

The LEDs can be configured individually within this tool, per profile, for a custom combination of your liking. Make the mouse wheel blue, the Tt dragon red and the side lights purple if you want - and a different combination if you wish for the other profiles. There is also an option to turn the LEDs off altogether if they bother you - this would come in handy for those who sleep in the same room as their PC; configure a profile with the LEDs disabled and switch to it before going to bed. The LEDs also do not exhibit any flicker or strobe.

Feel and aesthetics

A peripheral such as a mouse or keyboard has a great deal of personal preference and subjectability to it - the Theron is no different. Some will come to like the glossy finish - I personally love it - but the profile of the mouse was the sticking point. I've grown more accustomed to mice with a higher back to rest my palm - my Razer, SteelSeries and Microsoft mice have a similar design to each other but the Theron is different. Both Razer and SteelSeries make mice similar in profile to the Theron but if you're used to a different shape, be aware that this will take some time getting used to.

Compared to the other three mice, this mouse seemed to require more force to move. Using my old Everglide mousemat which has had a significant amount of wear, I found the Theron to require a lot more effort to move around compared to a newer mousemats I tried. Removing all the weights - 22.5g plus the weight of the rubber insert, improved the situation only slightly. This may improve with use as the pads on the underside of the mouse wear down a little.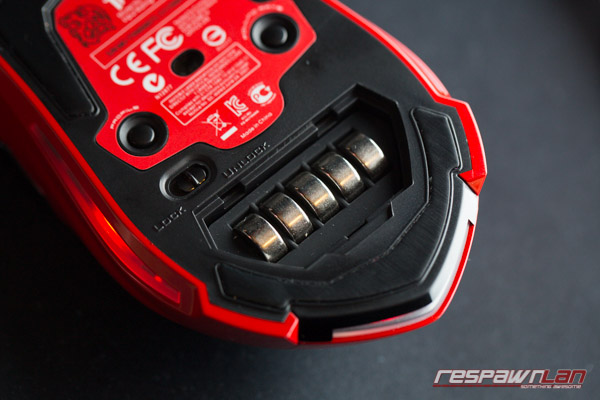 The weight system in the mouse is brilliant. Simply pop out the included weights to adjust the mouse to your liking - you can remove the weight from the centre of the mouse or adjust a particular side if you wish - or remove the weights altogether. This is one feature that the SteelSeries Sensei missed - I can't say I missed it but I did perform some adjustments on an old Logitech G5 mouse back in the day.


But the problems started sooner than I had expected; none of the buttons other than left, right,
mouse wheel and the middle mouse wheel button actually worked. I tried installing drivers,
rebooting the system and even tested the mouse on a Mac but to no avail.
Even the back/forward mouse buttons still seemed to lack functionality, making web browsing a very slow and frustrating experience.

It took me a while to figure out why - but there's a switch underneath the mouse that has "Lock <> Unlock" on it - this disables the back, forward and sensitivity selection buttons. This is also described in "fine print" in the quick start guide, which I didn't read. Armed with back and forward buttons, it was time to get started.





The mousewheel can feel a bit stiff with 'clicks' very well defined.

Am I the only person who thinks this mouse looks like a face?




Mac support

If you plan on using this mouse on a Mac, be mindful that there is no software to configure the mouse profile settings under Mac OS X, however it's possible to program the profiles on a Windows system and switch between the saved profiles on the mouse itself once you plug it into the Mac.

Another thing to be aware of - if you boot up a Mac with this mouse connected, for some reason it loses the ability to recognise the inbuilt or USB keyboard hotkey mappings for functions such as brightness, volume, media controls etc. This was observed with both an iMac (2011) and a Retina-display MacBook Pro. The workaround is to simply have the mouse unplugged if rebooting or starting up the OS and plug it in when the login screen or desktop appears - however you can leave it plugged in if you are sleeping/waking the system.

The mouse functions as it would on a PC when bootcamp (running Windows natively) on a Mac is used - and the Tt eSports tool functions as it would on a PC in this manner.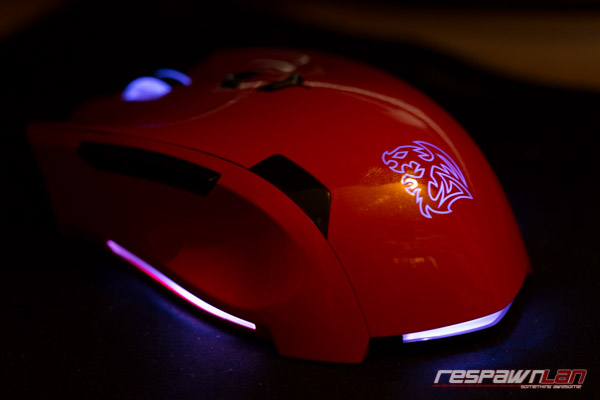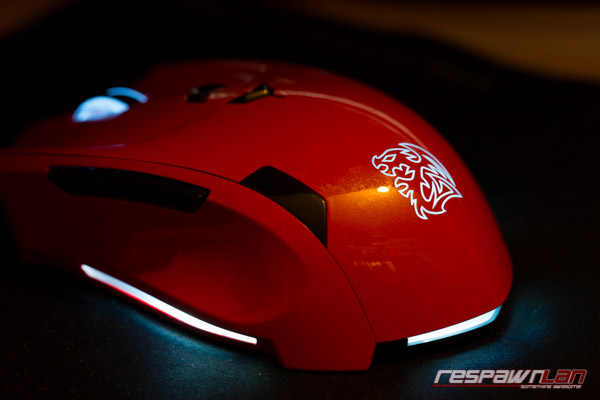 Conclusion





Tt eSports have really put together a cracker of a product here. It's good enough to replace the mouse on my main gaming PC. There. I said it. I'm using a Tt eSports product by choice.

Even the cat was interested in what made this mouse so special...