Date
10:00am Saturday, 9 Jul 2011 until
3:00pm Sunday, 10 Jul 2011
Location
Melbourne, Australia
Venue
La Trobe University Union Hall
Admission fee
$35
Players
601 / 450 (250 prepaid max)
Registration closed | See player list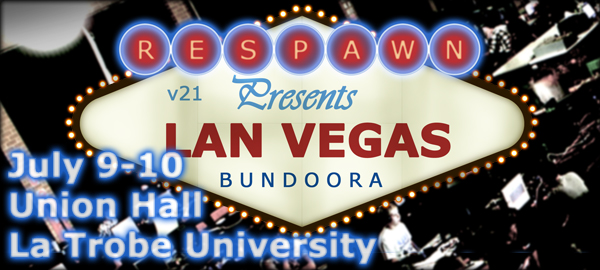 Itís that time again!

Winter is here and itís a cold one! What better time to escape to a hall filled with the warm glow of high performance PCs and a super-fast network? Announcing Respawn LANís 21st event: LAN vegas!

We will be having a number of high stakes tables for you to roll your dice on; our usual team majors, CS:Source, CoD4, TF2. Flatout 2 and Duke Nukem Forever* will form part of, but certainly not all of, our solo high stakes tables.

Register your place from 9PM this Thursday (June 9th) onwards. Confirms will open on the 23rd (a must if you donít prepay!). As usual, we have plenty of prepaid places available. Be sure to keep an eye on the Respawn LAN website and our Facebook page for frequent updates relating to competitions, prizes and giveaways leading up to the event.

Blow on your favourite d20, put on your lucky underpants and sacrifice to the gods of gaming and get ready for the best Respawn so far.