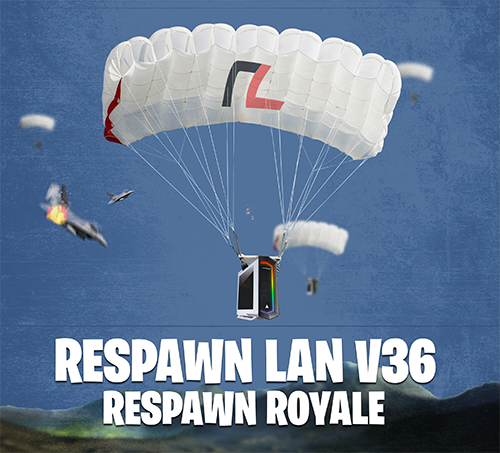 Date
10:00am Saturday, 19 Sep 2020 until
3:00pm Sunday, 20 Sep 2020
Location
Coburg, Melbourne, Australia
Venue
Batman Royale
Admission fee
$50
Players
170 / 430 (400 prepaid max)
Registration not required or registrataions have not opened yet | See player list
It's been a long time between energy drinks!
Introducing Respawn LAN v36: Respawn Royale!

We're back. We're here. We're actually doing this.

NEW DATES: PLEASE NOTE: SEPTEMBER 19th-20th


Introducing the return of Respawn LAN, Melbourne's longest running Bring Your Own Computer LAN parties! Join us for a fun-filled weekend of esports tournaments, casual competitions and our legendary AFK activities that've been known for. We're resurrecting grass roots esports and celebrating our passion for a solid weekend in February before we settle back into our regular program of smashing out the best LANs that we know you love.
We thank Scorptec and Aussie Broadband for coming onboard with us to support our event!

Venue
We are now running our event at the ALL-NEW (for us, anyway) Batman Royale located in Coburg. They have several large spaces and we are utilising both the Admiral and the Lieutenant rooms for our event. This venue is:
Right next to Batman Railway Station
Has a cool name
Has no outside glare in the main gaming hall
Is air-conditioned
Has on-site parking
Tournaments (a little more competitive)

For a bit more of a casual run at things...

CS:GO Arms Race
Armagetron
DOOM 2
FlatOut 2
CS:GO Arms Race
Halo Reach
AFK activities (subject to change) will likely include some Magic The Gathering and the card game 500. Hit us up on the discord (see the Discord link on the right) and one of us will get back to you!