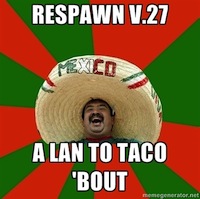 Date
10:00am Saturday, 6 Apr 2013 until
3:00pm Sunday, 7 Apr 2013
Location
Melbourne, Australia
Venue
Latrobe Uni
Admission fee
$35
Players
568 / 420 (200 prepaid max)
Registration closed | See player list
Respawn LAN once again returns to energise Union Hall with our enterprise-grade network, competitions, give-aways and awesome. We once again return to DOTA2, League of Legends, CS:GO, CS:S Gungame, Flatout 2, Starcraft II, Team Fortress 2 and practically anything else with a 2 it that has enough demand.
Check out our LAN guide for any information about the venue, what to bring and so on.
Our tournament schedule is now available! Click on the image below for the details!

A reminder of our cash prizes:
Starcraft II Heart of the Swarm 1v1: 1st: $250 2nd: $150 3rd: $100 4th $50
DOTA 2 5v5: 1st $500, 2nd: $250
League of Legends 5v5: 1st $500 2nd $250 3rd 5x Fractal Designs 92mm case fans
Counter-Strike: Global Offensive 5v5: 1st $500 2nd $250
We also have a number of competitions for the following:
Grid - TBA
Flatout 2 - Palit nVidia 660 graphics card
Counter-Strike Source GunGame (subject to Source updates not breaking the mod, or else this will be CS:GO) - Patriot 8GB Viper 3 Intel Extreme Masters memory kit
Warcraft III Tower Defence - TBA
Half-life 2 Deathmatch free-for-all - Patriot Supersonic Magnum 64GB USB3 USB flash drive
Uneral Tournament 2004 instagib - Patriot Supersonic Magnum 64GB USB3 USB flash drive
MS Paint Masterpeieces
Minecraft creations
Quake III instagib
Tron (using the Armagetron Advanced freely downloadable game)
Team Fortress 2 - TBA
Door prizes (drawn at midnight):
AZIO Levetron USB Gaming Headset
AZIO Levetron Mech5 Mechanical Gaming Keyboard
Lamptron FC10 4-channel fan controller
Fractal Design ARC Mini case
We've got heaps of stuff still coming from Gigabyte, OCZ and Patriot to join us with Tt eSports, Palit, Fractal Designs, AZIO, AVerMedia and Lamptron!