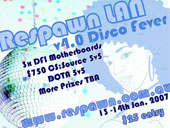 Date
10:00am Saturday, 13 Jan 2007 until
3:00pm Sunday, 14 Jan 2007
Location
Melbourne, Australia
Venue
Latrobe Uni
Admission fee
$25
Players
272 / 350
Registration closed | See player list
Introducing Respawn LAN v4: Disco Fever

Respawn LAN v4: Disco Fever is yet another installment of quality LAN gaming events by Respawn LAN. Building upon the success from our previous event, we see the return of the CS competition with an increased prize-pool, along with more prizes and competitions as ever before! NGI will also be running the console LAN gaming side-event.

The event will be running from Saturday January 13th at 10AM till Sunday January 14th finishing at 3PM

Venue

Locateted in Latrobe University's Union Hall, the event will have a capacity of approximately five hundred players, offering reliable three-phase power and air-conditioning for superior comfort and gaming experience. This venue also has shower facitilies. Union Hall has also been home to numerous Shafted events in the past.

Address:
Union Hall
Latrobe University, Bundoora Campus
Kingsbury Drive, Bundoora, Victoria, Australia.

You can use a map (thanks to Latrobe University, modifications by Shafted LAN) which we strongly advise you to PRINT OUT AND TAKE WITH YOU.

Network

A professionally engineered rock-solid Cisco powered 100Mbit/sec fully switched network with a gigabit backbone will ensure lag-free game-play without the burden of overloading switch uplinks. The network will be configured using DHCP so set your network card to obtain an address automatically to connect to the network. This is the default configuration of Windows operating systems. PLEASE DISABLE INTERNET CONNECTION SHARING if you are using it as it will interfere with our network.

Game Servers

Dedicated game servers will be provided for many popular games, freeing your PC to give you the best frame-rate possible. A list of servers will be published closer to the event. This will include Quake 3 (DM and Instagib), Quake 4, UT2004, Battlefield 2, Battlefield 1942, Call of Duty 2 among many others.
This will include our Battlefield 2 64 player server which will host a large organised game.

Competitions

The competition line-up for this event includes the following:
Counter-Strike Source 5v5 - $750 prize to winning clan
Quake III Instagib free-for-all
Hard drive throwing!
Warcraft III DOTA - $250
Warcraft 3 1v1 - $150 first prize, $50 second.
DOOM 2 using zdaemon
This event will also see the return of AFK competitions throughout the event including the increasingly popular hard drive throwing (hard drives supplied but you are welcome to bring your own!)
Trophies will be awarded to winners of some of these competitions.

Other Activities

There will be plenty of other activities to keep you entertained at the event. NGU Gaming League will be attending, running a side-event with networked XBOX and XBOX 360 consoles. There will be small giveaways throughout the event. Who knows what else we may have planned? :)

Food and drink

We will be running BBQs throughout the event for our hungry lanners free of charge. In addition, we will also be organising a large pizza run.
McDonalds Kingsbury is located a 15-20 minute walk from the venue. Presentation of your Respawn LAN v4 tag will entitle you to a 10% discount for the duration of the event. We will also be awarding McDonalds food vouchers as prizes throughout the day for some of the AFK and other competitions.
Feel like a fresh start to Sunday morning? We'll be cooking you BREAKFAST before competitions resume. Yum!

We will also be selling soft-drink at the event for $1 a can and bottles of water.
Computer Hardware vendors

The Smart Shop will be attending Repsawn LAN v4, offering an array of motherboards, processors, RAM, hard drives, power supplies and other odds and ends for anyone after that last-minute upgrade. We strongly suggest you contact the store manager of the Bundoora (Latrobe Uni) store via their website if you have any special requests.

Registration

Registration for this event is MANDATORY. Registration for our events is a three step process: Firstly, you need to register on the AusGamers system. Secondly, two weeks prior to the event, confirmations will open. This is for people who have already registered as well as people who register within two weeks of the event; you must confirm your registration. Thirdly, you must check-in at our event upon arrival - note that those who have not registered and confirmed may not be permitted to attend the event. If you can't register, send us an e-mail using the link on AusGamers - this will apply if you have a free e-mail address. This is the last event to use the AusGamers system as we will launch our own integrated reigstriation system for v4!

Sponsors

Many aspects of our event rely on the effort and kind contributions of our sponsors. We would like to thank the following sponsors for this event for their contributions: Further information about our sponsors can be found on our Sponsors page.