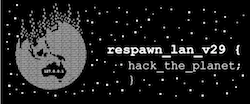 Date
10:00am Saturday, 18 Jan 2014 until
3:00pm Sunday, 19 Jan 2014
Location
Melbourne, Australia
Venue
La Trobe Uni
Admission fee
$35
Players
426 / 425 (230 prepaid max)
Registration closed | See player list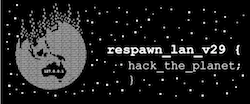 Introducing...
RESPAWN LAN v29: HACK THE PLANET
JANUARY 18TH-19TH 2014
2014 is going to be Respawn's biggest year ever - and what a way to kick that year off with a massive 450 player BYOC LAN party with all the bells and whistles we're used to. We're excited - and registrations are going to open on Christmas Eve at 6PM. Ho ho ho!
And something awesome...
And one thing we're really excited about - prepaid attendees will be able to register for and now create tournaments well before the event commences, giving you a personalised timetable so you know when to be where - and you'll have an action-packed list of things to do. Want to play CS 1.6 with a bunch of friends? Create the tournament and see who else is interested!
This will give us a clear indication as to which games you want to play, so we can better allocate our resources for future events.
Tournaments
We've got a whole heap of Respawn LAN official tourmaments planned, including:
League of Legends 5v5
Starcraft II 1v1
Team Fortress 2 6v6
DOTA 2 5v5, now with LAN support!
Counter-Strike: Global Offensive 5v5
Flatout 2
Armagetron
Counter-Strike Source GunGame
Live streaming
We received such a warm response from our live stream, we (and the couch on stage) will be back again! Say hi to your friends, listen to interviews with the organisers and watch our tournaments as they go out live on the Internet.
Scorptec
Our good friends at Scorpion Technology will be working closely with us next year to work on some awesome stuff that we've got planned. They'll be there at v29 to sell your favourite peripherals and hardware - now has never been a better time to spend all that Christmas cash.
Unplugged
Tabletop is back - including a Magic The Gathering draft and Cards Against Humanity.
Registration opens 6PM on Tuesday December 24th!
Be preapred - this event is going to be packed out! Registration is available on our event page that can be found by clicking this rather long hyperlink!.