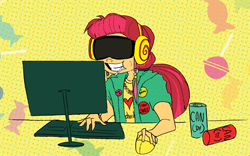 Date
10:00am Saturday, 27 Sep 2014 until
3:00pm Sunday, 28 Sep 2014
Location
Melbourne, Australia
Venue
Latrobe Uni
Admission fee
$40
Players
383 / 425 (250 prepaid max)
Registration closed | See player list
Respawn LAN v32: CANDY LAN
27th-28th September 2014

Don't miss out!!


Our next 420 player BYOC LAN party is fast approaching! This is our last event for the year - you won't want to miss it! Registrations are still open!.
All-new Game Schedule
We noticed how quiet it can get at night... And thought we should fix that.
There are now games running throughout the ENTIRE event - yes, even overnight! The night isn't just for Poker and Cards Against Humanity anymore - welcome Civilization V: Brave New World, Doom 2 3v3 and more to the Sunday morning schedule.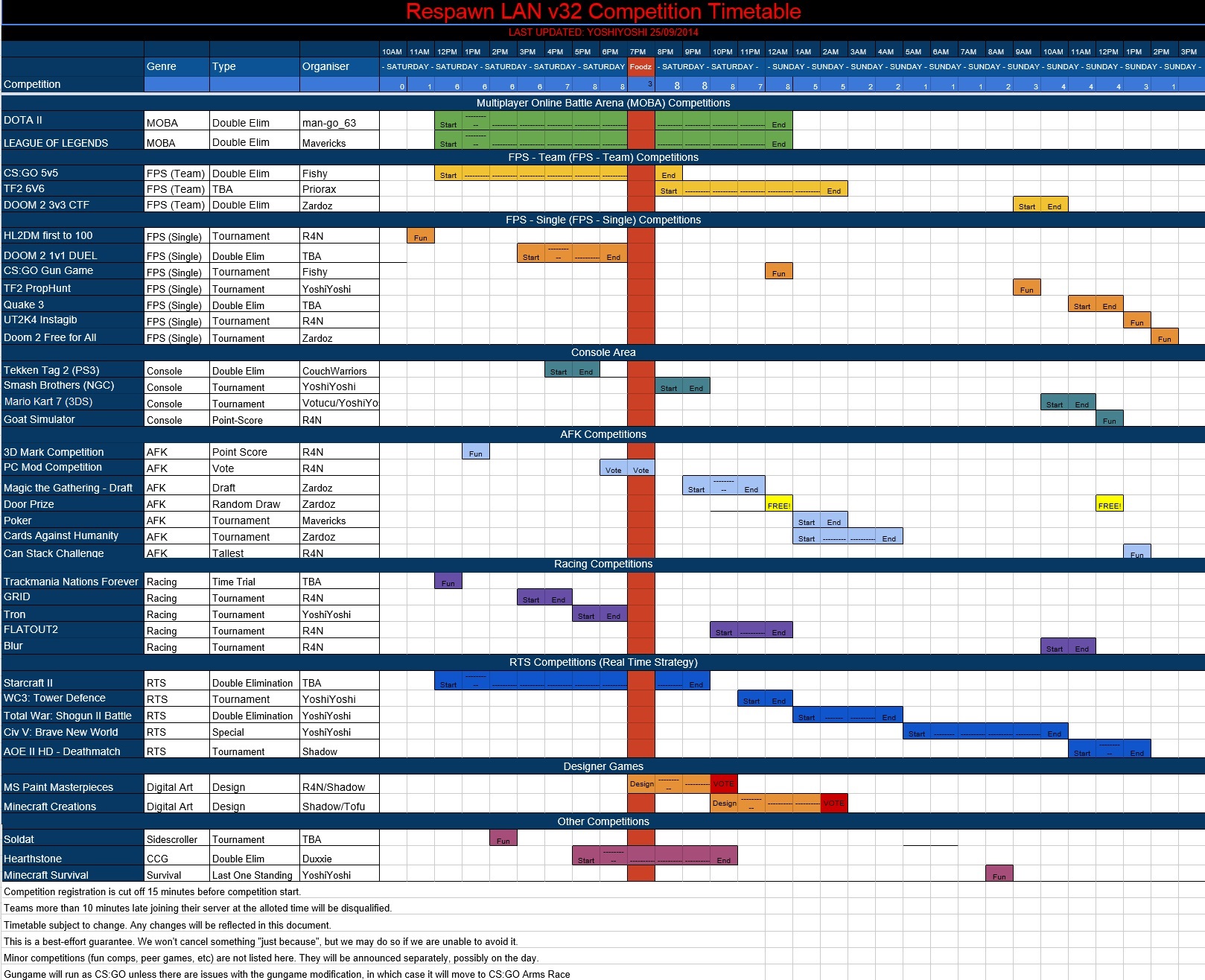 Prizes
Prize allocations are underway but here's some info to wet your appetite:


Hearthstone 1v1:
1st prize: Gigabyte NVIDIA GeForce GTX 970 GPU
2nd prize: Gigabyte NVIDIA GeForce GTX 760 GPU
3rd prize: Gigabyte NVIDIA GeForge GTX 750Ti GPU
Case mod contest
1st prize: Gigabyte NVIDIA GeForce GTX 780 GPU
2nd prize: Gigabyte NVIDIA GeForce GTX 760 GPU
3rd prize:Gigabyte NVIDIA GeForge GTX 750Ti GPU
Starcraft II:
1st: $200 cash
2nd: $150 cash
3rd: $100 cash
4th $50 cash
DOTA 2:
1st prize: $500 cash
2nd prize: $250 cash
League of Legends
1st prize: $500 cash
2nd prize: $250 cash
CS:GO TF2: DOOM 2 1v1 duel: CS:GO Arms Race (GunGame)

We've got heaps of other prizes to give away including keyboards, mice, headsets, 32GB USB sticks, an SSD and plenty more thanks to our wonderful sponsors.
Return of the Case Mod Competition!
With the support of NVIDIA and Gigabyte, Respawn LAN welcomes back the Case Mod competition, now supported with some serious firepower (read: prizes).
The winner of the case mod competition takes home a Gigabyte GTX 780!
But that's not all - second and third place will be awarded a Gigabyte GTX 760 and a Gigabyte GTX 750 respectively.
You know your PC looks awesome - now's the time to show it off!
But the Case Mod competition isn't the only big news…
NVIDIA GeForce GTX 980 on display
NVIDIA and Gigabyte are loaning us some demo systems so we can all get our hands on the new GeForce GTX 980 GPUs that were announced at Game24 last weekend. Check it out in our tech area - there'll be two systems with 144Hz displays and we'll load them up with Steam and some games to really show what these GPUs are capable of.
Scorptec
Our partners in retail are returning and will be offering special deals on selected gaming peripherals and computer hardware. We also have a VIP member code exclusive to our community - SPAWNVIP - which you can add to your account to see discounted prices.
Magic Draft
We'll be running a few Magic drafts this weekend with the newly released Khans of Tarkir set. $20 will get you entry to the tournament with three boosters and booster pack prizes will go to the first five winners of the tournament (out of 8).
Live Stream
Our event will be streamed live with more interactive content than before. Chat on our live Twitch channel during the event.
Set Your Hearthstone to Respawn LAN

NVIDIA and Gigabyte are backing the Hearthstone competition for Respawn v32: Candy LAN, along with GameTraders and Blizzard themselves!
Similar to the case mod competition, a Gigabyte GTX 970, GTX 760 and GTX 750 will be awarded to the top three respectively. But you'll need to play your cards right…
Hearthstone will be served as a sudden-death tournament, best of three games, until there are only eight left. From there, Hearthstone's top eight will be decided in a double-elimination tournament.
Dust off your decks and watch out for combos!